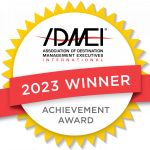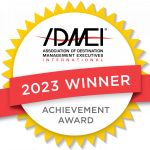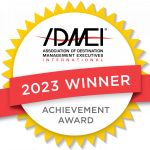 Best Community or Public Event
Imprint Events Colorado, A DMC Network Company
Vail Octoberfest
The Imprint team was called on just 10-weeks in advance of the annual Vail Oktoberfest celebration to step in and produce a series of events on behalf of our client, who hadn't rebuilt their event team following the pandemic. Having never produced a large-scale public festival, but pride ourselves on logistics management, we rallied a team of veteran planners, marketing experts and operational wizards. From sponsorship and media to vendor management and beverage procurement/sales, the program challenged our team every step of the way. Ultimately, we pulled off the largest event series in the festival's history, setting records each weekend!
Best Creative Solution to "New World" Challenges
Southwest Conference Planners, a DMC Network Company
Music Masters
Southwest Conference Planners was given the opportunity to design a program centered around one theme that told a story from the arrival experience until the group departed. To honor the top performer's achievements, Southwest Conference Planners created a program "set list", taking the attendees on a musical journey, and capturing the heart and soul of pop culture and modern day, country-western music. The stage was set for two completely different events happening simultaneously and featuring two different musical genres: a musical juxtaposition with something for everyone.
Best Décor/Design
Nola DMC
Experience Mardi Gras
A planned high-end client event had to be moved and redesigned just days before the event due to hurricane damaged roof of Mardi Gras World Float Den. This meant having to create decorations for an elaborate Mardi Gras themed black-tie dinner. The NOLA DMC team managed to create an absolutely gorgeous evening for 125 attendees using underlit tables, majestic feathers, and paper mâché masks. They built a beautifully decorated stage for the entertainment and moved floats from the original room as well as statues of court jesters and masks. All this using the traditional colors purple, green and gold.
Best Destination Spotlight Video
Imprint Events Las Vegas, a DMC Network Company
Vegas Return to Business
Amidst the largest crisis the hospitality industry has experienced in our lifetime, Imprint Events partnered with industry ambassador and icon, Kate Patay, to shed a ray of hope that the meetings & events industry would return safely to Las Vegas in a matter of time. We sponsored, filmed, edited and cameoed in the video that was released to the Smart Meetings Magazine audience on their website and socials. A complimenting article was also written about the filming and in-person experiences and what was to come as the industry returned to live events safely in the coming months.
Best Entertainment Production
Corinthian Events, a DMC Network Company
Boston Incentive DMC Drone Show
A clambake at Thompson Island was the perfect way to end a two-wave incentive program, with multiple events included in each wave's weeklong program in Boston. The most memorable part of both waves was a custom drone show that concluded the evening, with 100 drones all designed and choreographed to our client's theme, with perfectly tracked music that Corinthian Events managed. The 12-minute show was a surprise for all attendees and their guests and left everyone in awe of the impressive views in the night sky above them.
Best Event - $200,000 or less
Southwest Conference Planners, a DMC Network Company
Experience the Elements
Southwest Conference Planners was tasked with creating an event that told the story of the four elements while tying in the hotel's tagline. We showcased this concept by immersing clients in an event where they experienced the elements in separate spaces, but as a cohesive event as a whole. The space was divided into the four different elements. From any direction guests were engulfed with each element from start to finish. Various activations took place throughout the night to keep the theme alive. From food and beverage to turn down gifts, this evening was sure to capture all elements.
Best Event - $200,001 - $500,000
factor 110 | Destination Oklahoma
Heartland Payment Systems' Diamond Conference
Heartland Payment Systems' Diamond Conference brought 1,500 attendees to Oklahoma City and included two off-site events welcoming team members and celebrating its roots in Oklahoma. From historic Route 66 to Western heritage, factor 110 | Destination Oklahoma planned two events with-in four weeks bringing décor, music, and cuisine to the forefront of the design. Automobile Alley was brought to life with a drive-in theater, interactive car show, retro diner, soda shoppe, and roadhouse, and nods to the historic mother road. The Round-Up featured a down-home BBQ smoked onsite, rustic décor, and a boot-scootin' celebration on the dance floor.
Best Event - Over $500,000
factor 110 | Destination Oklahoma
The Council of State Government Southern Legislative Conference
The Council of State Governments hosted the 76th annual Southern Legislative Conference in Oklahoma City, showcasing Oklahoma's growth set through décor, cultural enrichment, musical performances, and dynamic presentations. factor 110 | Destination Oklahoma layered the program with an opening reception at the First Americans Museum, a family night at Riversport whitewater rapids, classic car rides to a bank vault reception, formal State Dinner with a private concert with Vince Gill, youth & guest lounges, tours and excursions, specialized transportation, audiovisual production to elevate sessions, tours and industry visits, and packing over 100,000 meals during their Campaign Against Hunger teambuilding.
Best Four-Week Challenge Event
ACCENT New Orleans, Inc., a DMC Network Company
Drew Brees Isn't the Only One who can Throw a Hail Mary in New Orleans –
300 Person Event Planned and Executed in Two Weeks
ACCENT New Orleans, Inc. received a call from a colleague in Florida about an event in New Orleans two weeks later. To add challenges, the March 2022 dates were during the busy festival season and NCAA Final Four Tournament. Limited resources after the pandemic were already committed and the client was traveling internationally so communication was hard. Challenges were overcome to produce two evening events and a private chef demo for execs that turned into a full dinner the day before. The client was thrilled, and attendees had a wonderful time! Strong relationships helped secure the business and execute it.
Best Incentive Program
ACCESS Destination Services - South Florida
Superstar Incentive
Chartered planes with over five hundred incentive winners landed in Miami, ready to celebrate! This top-tier incentive program was curated with unbelievable attention to detail for our long-term client. The program, designed, planned and executed by ACCESS, included high touch transportation during the Formula 1 Grand Prix weekend in Miami, three off property evening events with upgraded décor and entertainment, on property décor and entertainment, and local activities.
Best Logistical Achievement
Accent Indy, LLC, A DMC Network Company
Hey, there's no driver
Nine teams participated in the first autonomous car race at the most infamous racetrack in the world, the Indianapolis Motor Speedway. Competitors comprised of college students studying Science, Technology, Engineering, and Math (STEM). There were five events held in conjunction with the single-day race, all on the grounds of the racetrack. Attendees were from all over the world, including government officials, C Suite leadership from major tech institutions, university personnel, racing enthusiasts, STEM students around the state, and friends & family members of the participating teams. This was the most complex event Accent Indy, A DMC Network Company, has managed.
Best Overall Program
Island Destination Services, a DMC Network Affiliate
Vision & Action Conference
For the first time in history, this organization traveled internationally to celebrate their history, culture, and contribution to community. In 2022, they would turn to Island Destination Services to discover a new destination and leave their mark. They would experience a program that would rival all others with content-rich educational sessions, social gatherings, cultural experiences, and entertainment that would wholly immerse them in a destination. With a daytime agenda led by world leaders coupled with action-packed cultural activities and evening entertainment by 6 celebrity artists across 6 nights, this program delivered the WOW factor.
Best Team Building or CSR Activity
Imagine Events DMC, a Global DMC Partner
Rock On! A CSR Interactive Experience
When encouraged as an adult to tap into the carefree and unguarded "rock star" nature of the child within us all, great things happen!
Imagine Events DMC created such a rock star, give-back experience. Filled with high energy games and activities, attendees were encouraged to connect in teams to win supplies that help build custom rocking horses as well as directly raise over $36,000 for Arizona children's organizations in a matter of hours.
Aside from exceeding client expectations in attendance and monetary donations, this "play to pay" experience was one for the books. Rocking horses, music, and teamwork...Oh My!
Best VIrtual or Hybrid Evemt
Imprint Events Colorado, a DMC Network Company
GSM Gone Virtual
Imprint Events Group was approached to manage production, content-creation, and stage design of a global sales conference. After several months of planning, organizers had to weigh the options of postponing the event until the following year due to the looming Omicron variant. Facing heavy hotel attrition, a decision was made TWO WEEKS out to pivot to a hybrid conference with 750 virtual attendees. Creative solutions such as virtual trivia kept attendees engaged and educated on their company. The conference theme: "All in to Win" summarizes the efforts of our team in rising to meet unforeseen challenges of a global pandemic.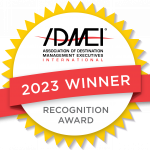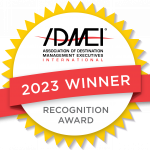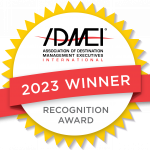 Hall of Fame / Lifetime Achievement Award
Beverly Brin, DMCP
"Beverly can never be replaced and will forever be an icon in our industry."
Laurie Sprouse, DMCP, CITE, CMP
President
Ultimate Ventures, a DMC Network Company
Beverly is the consummate professional, devoted friend, and dedicated employee who has given much of herself during the last two decades to the DMC Industry, especially to Ultimate Ventures, ADMEI, and the DMC Network. Having served on ADMEI's Certification and Accreditation Board (CAB) for seven years, including having served as Chair, Beverly was named DMC Professional of the Year in 2014. She has earned the respect of her peers, clients, and vendors. She can never be replaced and will forever be an icon in our industry. There is absolutely no one more deserving than Beverly of ADMEI's Lifetime Achievement Award.
Hall of Fame / Lifetime Achievement Award
Jennifer Patino, DMCP
"Jennifer Patino has been transforming the Destination Management landscape for decades, building and leading strong DMC's and giving back to the industry at every opportunity."
Frank Andrews
Chairman
Hosts Global
Jennifer has spent more than 35 years in the hospitality industry, holding multiple leadership roles throughout her career. From her early days at Caesars World to the CEO of Hosts Global, she has produced thousands of events, all unique but with the same focus on the guest and partner experience.
Her industry influence, commitment, and leadership has spanned well over 20 years with ADMEI and has held many positions with ADMEI, including being a past President. She has been continually recognized as a top leader in the DMC industry.  Her belief is "leave it better than you found it" and there isn't a person that personifies this mantra more than her.
Carol Norfleet Destination Management Rising Star
Nick Conley
Ethos Event Collective - Chicago
"Nick has proven to be a big force in a short time, and he is just getting started!"
Michelle Castady, DMCP
Principal + Owner
ETHOS Event Collective, Midwest
In the role of Experience + Design Manager. Nick's position is integral to our team's success, as he cultivates creative concepts and innovative experience-based designs that drive impact for both our clients and our local community. As a new business owner obsessed with building a better culture in the meetings + events space, the heart Nick has for our work and our clients brings actual tears to my eyes.
I've been in the DMC space for nearly 20 years and have worked alongside so many personalities, but Nick is certainly someone special and a true rising star. I could not recommend Nick more highly for ADMEI's Carol Norfleet Destination Management Rising Star recognition award. Nick has proven to be a big force in a short time, and he is just getting started!
Joanne O'Connor President's Award
Brian Ferrell, DMCP, CMP
factor 110 | Destination Oklahoma
"Brian continues to be a difference maker, a valued mentor, and sets the bar very high on giving back to this great organization! "
Jeff Nelke, DMCP
ADMEI Past President
ACCESS Destination Services - South Florida
The President's Award is to recognize an individual who has truly gone above and beyond for ADMEI this past year.  This individual not only helped me begin my ADMEI Board journey but continues to inspire us all through…well…"BAM" and "Punching it Margaret!"  His dedication to the team both at home and with our ADMEI Family never stops to amaze me.  He is generous with his time, dollars, and energy – always with a selfless spirit of how we can do it better.  He lives his life by doing the right thing and never looking back.  I could not think of a more deserving ADMEI ambassador!