ADMEI is committed to establishing industry relationships aimed at strengthening the DMC voice, providing ongoing benefits and value to our members, and advancing education that will positively impact the industry for years to come.
Destinations International
Destinations International is the world's largest resource for official destination organizations, convention and visitors bureaus (CVBs) and tourism boards. With more than 6,000 members and partners from over 600 destinations, the association represents a powerful forward-thinking and collaborative community around the world. For more information, visit www.destinationsinternational.org.
International Live Events Association (ILEA)
The International Live Events Association (ILEA) is a global community of thousands of creative event professionals whose skills, expertise, and experience power some of the most influential live events around the world. ILEA is a community centered around celebrating all aspects of live event production and management.
Members include event planners/producers, caterers, meeting planners, decorators, audio-visual technicians, convention coordinators, entertainers, educators, journalists, photographers, hotel sales managers, and more.  ileahub.com

LAS VEGAS OCTOBER 17-19 2023
FRANKFURT 14-16 MAY 2024
IMEX
Proud of its roots in Brighton, UK, the IMEX Group owns and operates two market-leading, annual trade shows for the meetings, events and incentive travel market globally: IMEX in Frankfurt and IMEX America.  
These IMEX shows are where you'll experience 'the heartbeat of the global business events community'.  imexamerica.com       imex-frankfurt.com
Society for Incentive Travel Excellence (SITE)
SITE is the only truly global business events association dedicated exclusively to incentive travel.  Founded in 1973, we are a professional association of 2,500 members located in 90 countries, working in corporations, agencies, airlines, cruise companies, and across the entire destination supply chain.
We bring value to our members at both global and local chapter level by networking, online resources, education, certification, and advocacy. SITE is deeply committed to the new generation and operates a best-in-class Young Leaders program and dedicated annual conference.  siteglobal.com
Events Industry Council (A Global Coalition)
The Events Industry Council's more than 33 global organizations represent over 103,500 individuals and 19,500 firms and properties involved in the events industry.  ADMEI is a proud member of this council.
The Events Industry Council's vision is to be the global champion for event professionals and event industry excellence. It promotes high standards and professionalism in the events industry with the Certified Meeting Professional (CMP) programme and signature programme activities.  eventscouncil.org
CMP Credential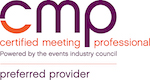 The CMP credential is recognised globally as the badge of excellence in the events industry. The qualifications for certification are based on professional experience, education and a rigorous exam. The four signature programmes – Sustainability and Social Impact, Accepted Practices Exchange (APEX), Knowledge and Leadership – represent the key initiatives, assets, services and products for the Events Industry Council.  ADMEI is proud to be a Preferred Provider of the CMP program.